mistakes are the germ cells of solutions
Martin
When visiting Koroni (South-Peloponnese, Greece) for the first time in 1999, Tania has been amazed by its nature and simplicity of life. Instantly she felt that this is the place to put down roots. Thus she started learning the traditional Greek art of caring for olive trees and how to achieve the best quality in the production of extra-virgin organic Olive-oil. Besides she realized that nature offered her a deeper encounter with herself and that is what she is sharing in workshops and classes such as relaxation techniques, meditative dance and mindfulness meditation in nature.
Koroni is the greek representative of the UNESCO Intangible Cultural Heritage of Humanity : mediterranean diet (2013)
In 2008 a beautiful piece of land "bought her" and that's how she became its caretaker and servant. Obviously working organically was for her the only respectful way to interact with Mother Nature. In those years Tania planted more than 130 trees. She has been the first to practice the humanure thermophilic composting in Koroni initiated in 1979 by J. Jenkins in the USA and currently used in more than 60 countries around the world. Since 2011 we are using this ingenious system successfully.
Due to the Greek crisis, Tanias clients choose other destinations for their vacation and she decided to live and work in Munich, Germany. Therefore since 2013 we concentrate our efforts on organic Olive-oil.
But we do really miss living and working on our land and so we are about to take the "quantum leap" and return from the city to this paradisiacal countryside on the shores of the Mediterranean!
Here is, what we already do:
NEW: December 2019. We made biochar in an earth pit kiln to be used in the terra preta project! Together with fine chopped fig wood and soil we set up a pile as a first step in producing terra preta.
running the compost-system including HUMANURE and grey-water usage, that way we take responsibility in dealing with our own waste
using absolutely no chemical fertilizers or pesticides (ΟΧΙ ΡΑΝΤΙΣΜΑ)
creating reptile-, insect- and bee-friendly areas
clearing the remainings of the demolished old farmhouse
renewing and extending the food-garden
manufacturing our own 100% biodegradable soap and using soap nuts for our laundry
making our own reef-safe sunsreen meeting the australian standard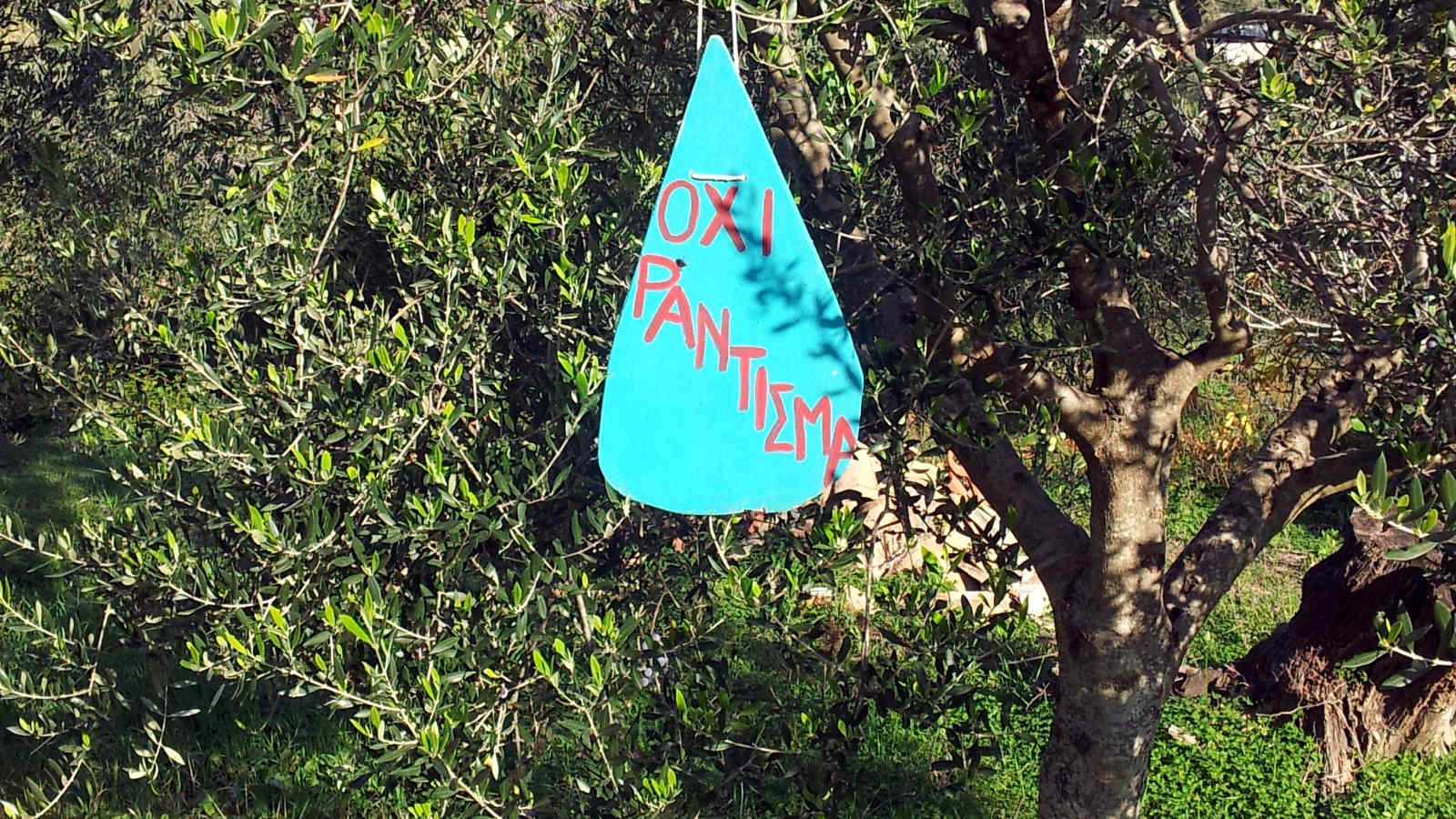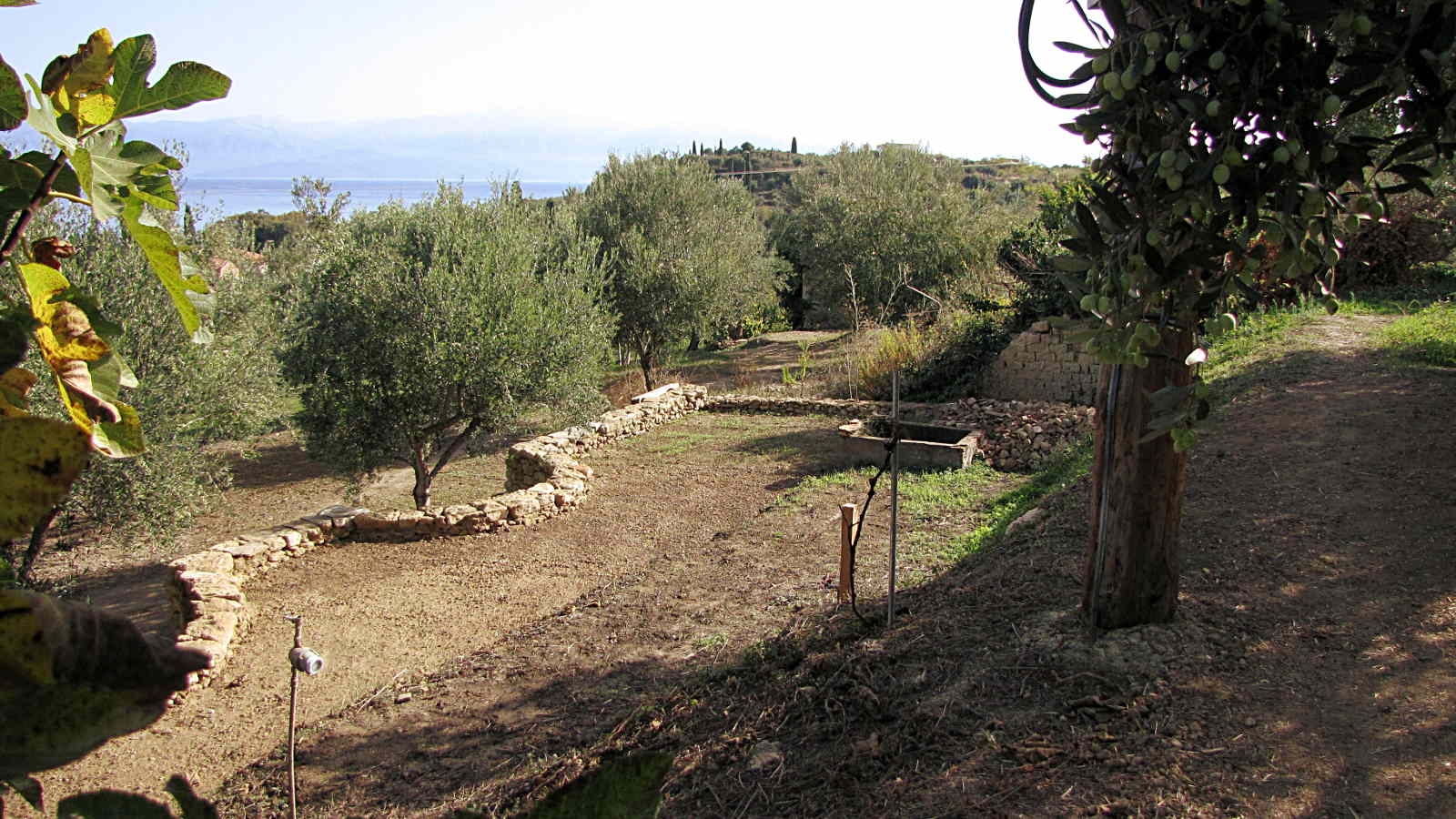 Step by step we will develop our small farm:
Build a small farmhouse, where we can live in simplicity. Ancient techniques will help us cooling the living area without air conditioning. On the flat roof there will be a place to dry figs, vine, tomatoes, etc. In the cellar, tempered by the surrounding earth, we will have place to store our products and tools. In the future a "repair-café" is possible
Turn the farm into an edible forest by syntropical farming. Planting native shrubs and herbs to increase biodiversity. Inviting Ernst Götsch, expert and founder of syntropical farming, for seminars. Sharing our experiences with our neighbours and woofers from all over the world
expanding the insect- and bee-friendly areas
Integrate and develop traditional knowledge and know-how. Building a traditional oven for baking bread, Pittas and Pizza
Some goats, chicken and a mule enriching our syntropic farm would be tremendous!
Developing consciousness for the interaction of human habits with life-cycles and environment. Reduce – reuse – recycle
Introduce a system to collect organic material for composting and redistributing the resulting humus
build a small greenhouse to grow vegetables in winter to get 90% self-sustaining all year round
keep it simple and eco!